We decided to maximize the storage area of a small bedroom closet, which is a small square area and unfortunately is also home for the apartment hot water tank. For the small bedroom closet real-life makeover we'll use a salvaged old mail room pigeonhole shelf  for the bedroom closet shelves.
We decided to divide the closet into two sections, one side would feature storage space in the form of cubicles which would also store footwear and on the opposite side 2 wall garment racks along with a pant rack would be installed.
An old mail room wooden pigeon hold shelve was recycled for the shelve storage in the project. The unit was cut into smaller parts which would fit the empty space around the hot water tank.  Once the measurements were taken twice the pieces were cut, sanded, primed and painted.

As the painted shelves finishing drying the closet was emptied, the original large shelve and wall garment rack were removed.  The bedroom closet  walls were then cleaned, sanded and given 2 coats of paint. Once the freshly painted walls were dried the 2 wall garment racks and a sliding pant hanger from Ikea were installed onto the closet's left side, (Left image red arrows). Unfortunately the closet width would not allow the pant hanger to slide forward, so the support rail on the right side of the pant hanger was removed using a metal cutting saw (Center image with yellow circle).  The pant hanger was then secured directly onto the wall using two large screws, (Yellow arrow).  On the opposite side of the wall garment racks, the mail room pigeon hole unit was assembled into the empty spaces around the hot water tank, (right image).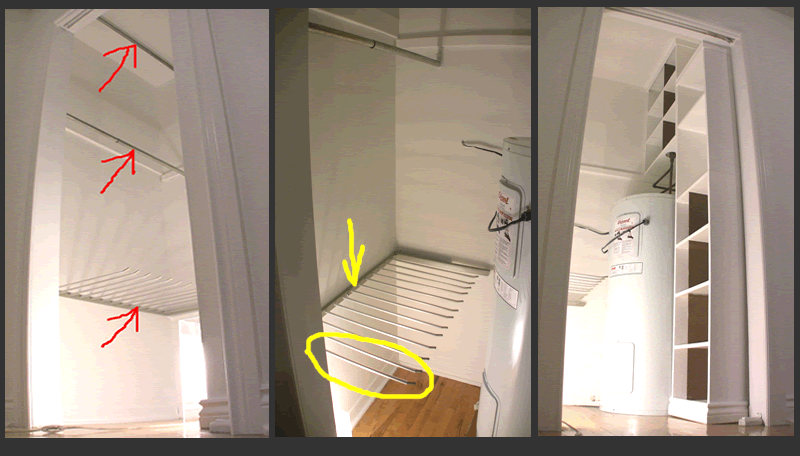 When installing the wall garment racks consideration needs to be given to  weight  of the clothes hung on the rack, therefore wall studs should be used in securing the racks to the walls. An electronic stud finder would help locate the studs. Below are images of the completed Small Bedroom Closet Real-Life Makeover with clothing and shoes installed.
Tools you need:
Hammer
Wood Saw (+ Metal Cutting Saw)
Nails and Screws
Hand Drill or Screwdriver
Paint and Brushes