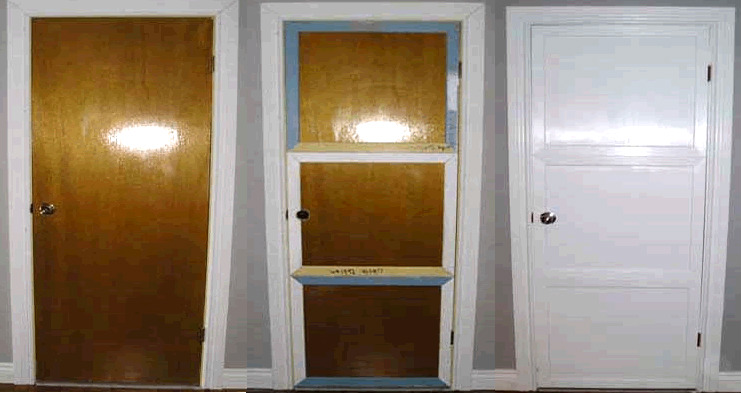 After replaced the original door frame moldings in our home, we decided that the doors also required a makeover. Since we rent the apartment we were searching for a low budget solution. Paint alone on the plain flat doors with out texture would not be sufficient. We then decided to recycle the former old moldings and used them to add texture and depth to the doors. This is an easy real-life makeover project which helps not only the bank account but also the environment by recycling the old moldings and doors.
Old recycled moldings were cleaned, trimmed to 45 degree angles and sanded then positioned and secured to the door with finishing nails hammer in just deep enough to support the pieces. This is important to allow for easy removal of the molding if readjustment is necessary. To avoid uncovering extra holes from the previous 'countersinking' holes which had been filled in pull the nails through the back side of the molding. This is also an easier method to remove the old nails.
Once you are satisfied with the placement of the moldings, remove them add glue and nail then back onto the door. Different patterns can be created with the limitation being only your imagination. We picked a square pattern repeated 3 times on both sides of each door.
After the patterns are and properly secured, lightly sand the door and moldings using a finishing sandpaper. Then apply two coats of a good quality primer, followed by the paint. The door in our interior door real life makeover
was finished with two coats of semi-gloss paint.
Note: To demonstrate how quick and easy the interior door real life makeover project is, we left the project door on its hinges, it can however be removed.
Images below show the various stages of the Interior Door Real Life Makeover project